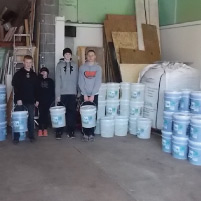 Good Clean Fundraising voted Best Fundraising Program for Schools,
Churches, and Youth Athletics Organizations
Good Clean Fundraising located in Phoenix, AZ is altering the different ways in which Schools, Youth Athletics, Churches and Non Profits contribute funds. The item is a liquid laundry detergent which is certainly a must have on most shopping lists already. The laundry detergent fundraiser has been tremendously successful with lots of schools and youth sports organizations raising between $10,000 and $20,000 and even more.
The Laundry Detergent Fundraiser was nominated Best Fundraising program for Schools, Churches and Youth Athletics Organizations in a latest research. The firm Good Clean Fundraising that operates in Phoenix, AZ provides a highly rated and profitable fundraising program for Schools, Youth Groups, Athletic Organizations, and Churches, basically anybody looking for a brand new approach to raising money. They sell a top notch private labeled liquid laundry detergent made by a US based manufacturer.
Their fundraisers differ than most as they mainly focus on selling Value Priced Necessity items which parents, neighbors and family were ALREADY planning to buy still. In contrast to the typical fundraising programs that schools and youth groups put on usually involve selling very expensive candy, cookie dough, etc… and the parents buy these things against their wish, in the name of help strengthen the organization. Many a times, the company supplying these items do make much profit than the group that does the actual work.
The Laundry Detergent Fundraising Program provides a customized order form with the logo of the organization so that it may be published and distributed to all fundraiser participants. The net income margin is just one of the best aspects of our program as it makes it possible for your group to maintain a good fraction of the sale price. Many smaller groups have learnt that raising $3,000 – $5,000 is so practical by following our program and bigger ones have raised $25,000 in only 21 days.
The Laundry Detergent Fundraiser has achieved a lot with different groups. Another benefit of applying Laundry Detergent fundraising program is that the company Good Clean Fundraising is also a tremendous resource and guide in making sure the fundraiser is a tremendous success. From tips to achieve the highest participation to a Social media campaign that we will help facilitate high participation.